New Audi A6 Ties with Infiniti M37 in Consumer Reports' Premium Sedan Test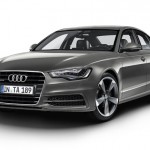 Up until now, Consumer Reports' [CR] number one choice in the mid-size luxury sedan segment was the Infiniti M37. Not anymore as after evaluating the redesigned 2012 Audi A6, the M37 has to share the top spot with Ingolstadt's premium saloon.
The new Audi A6 received an "Excellent" rating with an overall score of 93 points. This is a huge improvement over the previous model's 79 points.
"The redesigned Audi A6 is an impressive car and a joy to drive", said senior director of CR's Auto Test Center. Consumer reports says that the significant improvement is attributed to the revamped model's combination of strong acceleration, agile handling and comfortable ride as well its high-quality and quiet interior.
Other models included in CR's mid-size luxury test were the Mercedes-Benz E350 BlueTec, the Infiniti M35h hybrid and the new Saab 9-5.
The diesel-powered, 210HP Mercedes, received an "Excellent" road test score and is the new fuel economy leader in the class with 26 mpg beating the hybrid M35h that managed 25 mpg.
The M35h also got an "Excellent" overall test score, thanks to its quick acceleration and fuel economy, but received some criticism over its non-linear power delivery and the fact that handling and braking are inferior to the regular M37 version.
"The gas-electric system helps deliver quick acceleration and fuel economy that's on par with some four-cylinder family sedans, but its power delivery tends to be jerky and abrupt and its handling and braking are not quite up to that of the conventional M37," said Consumer Reports.
Unfortunately for the ailing Saab brand, its new 9-5 didn't score that well on CR's test. It did receive praise for its interior's excellent fit and finish and nimble handling, but its noisy engine, stiff ride, restricted visibility and slow acceleration resulted in Saab's new model failing to receive a "Recommended" tag.
"The redesigned Saab-9-5 is disappointing in this rarified class. It shares a platform with the Buick LaCrosse and Regal, its former GM cousins, but the 9-5 doesn't measure up well to those models or its competitors," said CR. "Overall, it doesn't score high enough to be recommended."