First 2011 Saab 9-4X Rolls Off The Line In Mexico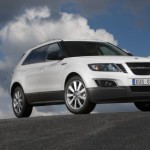 Saab is the quintessential Swedish brand, having been linked with the Scandinavian country for many years, being headquartered in Trollhattan and for having a reputation for designing quirky cars. However, in more recent years, that Swedish link is becoming harder and harder to find.
For the past two decades the brand was owned by GM and now it's in the ownership of Dutch sports car company Spyker. And, to muddy the waters even further, Saab's latest model is being churned out at a factory in Mexico.
Why the Mexican connection? Because the 9-4X was co-developed with the Cadillac SRX before the split from General Motors and even shares its platform.
Earlier today the first 2011 Saab 9-4X rolled off the production line at the Ramos Arizpe plant in Mexico. Saab boss Jan Ake Jonsson was on hand to see regular production begin, just three months after the 9-4X was unveiled last November at the 2010 Los Angeles Auto Show.