Audi Poised to Buy Ducati, Mercedes and AMG Left Out in the Cold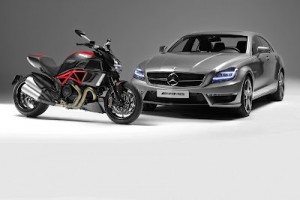 Four rings, four wheels and more often than not, four-wheel drive: the description fits Audi to a T. Yet the VW Group's premium brand is about to expand in the world of two wheels by acquiring a motorcycle manufacturer.
Mind you, not just any manufacturer, but Ducati, Italy's closest thing to a Ferrari on two wheels. That comes to a surprise as since 2010, the Italian motorcycle maker formed a marketing partnership with Mercedes-owned AMG, which included AMG sponsoring the Ducati MotoGP team and the latter rolling out an AMG-branded Diavell motorbike.
According to a report from CAR Magazine, however, Audi's interest in Ducati is part of "Project Eagle", a plan that is said to have been instigated by none other than Ferdidand Piech himself.
The publication claims highly placed sources within the Borgo Panigale, Bologna-based company revealed that despite selling 40,000 (rather expensive) motorcycles annually, Ducati has accumulated a debt of around €800 million (US$ 1 billion).
The Performance Motorcycles Spa investment firm that owns the company has reportedly put a €850 million (US$1.1 billion) sale sticker on Ducati.
Audi is not alone, as both Mercedes-Benz and Indian group Mahinda & Mahindra are also interested. Ingolstadt has until mid-April to decide whether it will go ahead with its plan and has formed a team of advisers about "Project Eagle".
Apparently, its intention is to pay from €50 to €100 million (US$65-130 million) in cash and take over Ducati's debts.