2011 Geneva Motor Show Preview: 2012 Saab 9-5 SportCombi Wagon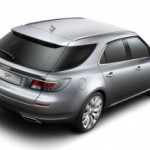 It's finally official. After months of leaked images and spy shots, Saab's all-new 9-5 SportCombi wagon has been revealed today, albeit from just one angle, but it won't be long now until we get to see it in its entirety.
That's because along with today's single shot, Saab also confirmed that its new wagon will be on display at the 2011 Geneva Motor Show in March.
Designed in parallel with its sedan twin, the 9-5 SportCombi shares the same frontal styling and adds a swept, wraparound rear window look. The sweeping roof-line is extended by a deep rear spoiler that's integrated into the top of the tailgate. Slim roof rails are fitted as standard.
Inside, there's an adaptable multi-fold floor, flexible U-rail load space configuration and under-floor stowage with a sealed wet storage compartment. A powered tailgate is also available, along with four tie-down loops and a 12-volt power outlet.
Additionally, the 60/40 split rear seatbacks fold down almost completely flat without having to reposition the seat or remove the head restraints.
With the seatbacks lowered, the cargo deck is just over six feet long (77.2 in.) and offers an adaptable load capacity of up to 56 cubic-feet (18.6 cubic-feet, rear seats up). The side walls are completely flat and upright, creating a clean, open space without any hard-to-use corners or rear wheel-arch intrusions. This should see the new 2012 9-5 SportCombi remain a hit with families.
Powertrain options should match those of the sedan, and all the high-tech goodies should be there too. These will include a head-up information display (HUD), bi-xenon adaptive headlights, adaptive cruise control; Saab DriveSense adaptive chassis with real-time damping control, keyless entry and starting, dual-zone climate control, a parking assistant, and Saab's XWD all-wheel drive system with an eLSD. The vehicle will go on sale in the U.S. this fall where it will likely list as a 2012 model. Pricing should come in slightly higher than the equivalent sedan model.